Post by Trade Forum on Sept 30, 2022 22:40:49 GMT 1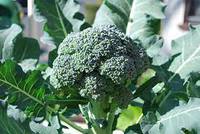 Broccoli
is a type of crop that loves good sun and cool weather. Americans believe that it is the number one best vegetable in the world, they love the vegetable. It is rich in vitamins, such as vitamin A and minerals; folic acid, fiber, iron and potassium. Broccoli farming is a lucrative venture because after harvesting the main head, the plant will keep producing smaller side-shoots for several months to come.
Nigerians are not known for Broccoli farming just like other exotic vegetables such as; Cauliflower, Celery, Beetroot. However, the consumption is increasing even within the local population, and you can see that our farmers are missing plenty of money. Broccoli is sold only in a few places such as supermarkets, online stores and foreign fruits and vegetable markets in big cities; and also in big international markets like Mile 12 in Lagos.
Broccoli grows well in places like Plateau State and the Mambilla region of Taraba State because they grow well in cool weather. But under greenhouse, time of cultivation and hybrid seeds they can be grown anywhere. It requires just six hours of sunlight, arable and fertile land.
You can plant broccoli in your backyard garden in a container or go into commercial broccoli farming. It can be done successfully with the guidelines we will talk about later. The most important thing is to know the right variety to plant and the necessary care to be taken.
In this article we are going to concentrate on knowing all you need to know about the crop before we can go into the detailed steps of cultivating broccoli.
Broccoli Nutrition

Broccoli is an incredibly nutritious vegetable, full of Vitamin C and other good nutrients. (100 grams of broccoli gives you about 150% of your daily Vitamin C recommended amount.) There are 34 calories in 100 grams of broccoli.
But Is Broccoli Low-Carb or Keto-Friendly?

Broccoli has about 4.5g of carbs per 100 grams, which means that broccoli is relatively friendly to low-carb and keto-oriented eating budgets. The keto and low-carb eating practices rely on eating lower amounts of net carbs (carbs minus the fiber). Depending on one's carb budget, broccoli can be a smart and satisfying way to eat nutritiously while following this eating practice.
Broccoli Varieties
:
Most of the large-headed, deep-green broccoli you find in grocery stores is some variety of broccoli Calabrese, this was brought to the US by Italian immigrants early in the 20th century.
You may also see purple broccoli which is a variant, or broccoli Romesco which has a stunning fractal structure and is a cross of broccoli and cauliflower.
What Is the Difference Between Broccoli, Broccolini, Broccoli Rabe, and Chinese Broccoli?
What Is Broccoli Rabe?

Broccoli rabe, on the other hand, while it shares a name with regular old broccoli, is actually more closely related to turnips and mustard greens, as a bitter, cruciferous, leafy vegetable. (It's also called broccoli rabe and rapini.) If you love bitter greens with a spicy kick, broccoli rabe is the king and is so good sautéed with olive oil and garlic.
What Is Broccolini?

Broccolini looks like a smaller, more slender broccoli. It's actually a name brand (which is why we always capitalize Broccolini!) and it resulted from a cross of broccoli and Chinese broccoli. It's milder and tenderer than regular broccoli, and much sweeter than broccoli rabe.
Where Does Broccoli Come From?

In the United States, most broccoli is grown in California, which grows broccoli year-round and accounts for about 94% of all the broccoli grown in the country. Internationally, about 75% of the world's broccoli is grown in India and in China. (From Wikipedia)
The Best Way to Store Broccoli (Plus: How Long Does Broccoli Last?)

Fresh heads of broccoli should be stored in the refrigerator, where you can keep them for seven to 10 days. Once the florets begin to turn yellow, the broccoli is starting to spoil.
This is just the introduction; in our next article we will delve into how you can successfully cultivate Broccoli in Nigeria.
Stay with us.
Our company is one of the best companies in Agro-Export Business in Nigeria today. We train individuals and corporate organizations on how to do Export Business the right way; if you are interested, please contact the admin of this forum now for further details.