Post by Ismail AbdulAzeez on Oct 25, 2014 9:35:35 GMT 1
Attend EXPORT WORKSHOP Tagged:
Hands-on, in-depth training
(
Agricultural Commodities & Finished Goods Export plus How to Secure Export Contract
- Package include Practical Training, 10 Comprehensive manuals on Cashew Nut Export,Cocoa Beans Export,Sesame Seed Export,Dried Hibiscus Flower Export,Dried Split Ginger Export,Soya Beans Export,Shea Butter Nut Export,Cassava Export,Beeswax Export,
Charcoal Export
,
Local Food Items
, Animals & Animal Products Export, Video DVDs on export & Continuous Export Free Consultation and many more)


For Whom:

New Exporters, Existing Exporters, Produce Merchants/Local Suppliers, Commodity Brokers/Consultants, Investors, Financiers, Foreign Buyers etc

Course Content:

* Practical training with our top export consultants.
* Handling challenges facing exporters.

* Understand what export is & what it is not from practical experience.
* Putting up an Export Structures & the Know-How.

* Selecting & Choosing the right exportable products for you.

* Locating with ease sources of exportable products from Nigeria.

* Important Computations in Export & How to?

* How to start getting regular orders/contracts from abroad almost on daily basis.
* Identifying authentic overseas buyers.
* Writing Offer Letters & Drafting of Export Contracts- How to?
* Signing your Export Contract. What to consider?

* Find out how easy to get investors/finance for your export business.
* Requirements for new exporters/shippers.

* Export Planning.

* Export Documentation and Types.

* Risk Management.

* Insurance.

* Solving Logistics Problems in Export Business - You can loose your contract if you don`t know how to handle this.

* Attending International Trade Shows - How to get regular update.

* Export Incoterms and how to use them.

* International Trade Payment Terms and options you have.
* Some Products Specifications & Information.
* Full Description of Export Sequences.
* How to deduce International Prices for all Exportable Products.
* How to guide against being defrauded in Export Transactions.
* Export Chains & How to position yourself.

* Detailed discussions & advices on Verifiable Gross Mass (VGM) of Containers.

* How to take full advantages of AGOA.

Bonuses:

- Participants will be assisted in processing their export certificates.

- Participants will be assisted in securing export contracts based on their products of choice.

- Participants will be assisted with execution of their export contracts through our network.

- Continuous export free consultation

- Comprehensive manuals & videos on export

- Direct Qualification into our Inner Circle Export Discussion

- Powerful Networking with other attendees & Link to some movers and shakers in export business in Nigeria- you can`t do without working or collaborating with them.

- 3 Powerful resources you must have to succeed in export business. Fail to have them and waste your valuable time & financial resources.

Fee: N150,000 (One Hundred and Fifty Thousand Naira Only).



Date: Saturday, 23rd October, 2021 (10.00 am Prompt).

Sunday, 24th October, 2021 (12.00 pm Prompt).

Venue: THE THY GLOBAL OFFICE,
4, Ismail AbdulAzeez Street,
Singer Bus Stop, Sango Ota, Ogun State.

Bank Detail:
STERLING BANK PLC, THE THY CONSULTING LTD A/C 0074194819.

NB: All payments for seminars should be made 3 days ahead.


Thank you.
Ismail AbdulAzeez.

E-mail: [email protected]
Tel: 07033632285, 08023050835.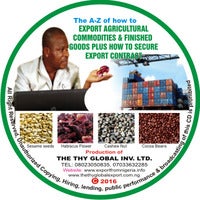 PS:
Promo, while offer last,
Recorded Training Session covering A to Z of How to Export Agricultural Commodities & Finished Goods plus How to Secure Export Contract is available in DVDs (Part 1 & 2) @ N25,000 - available in Digital & Mobile version- copies can be delivered via email.

PPS:
Leverage Our Social Capital

Testimonies of our past participants

The Nation News Paper wrote about us
THE THY GLOBAL at Japan Market