Post by Ismail AbdulAzeez on Oct 25, 2014 9:57:40 GMT 1
Learn the step by step of foodstuff export business from Nigeria by attending our group training tagged:
Foodstuff Export in Nigeria
Hands-on, in-depth training

Such as Plantain, Plantain flour, Ogbono, Mango seeds, Yam Flour, Snail, Vegetable-Ugwu, Water Leaves, Bitter Leaves,Utazi Leaves, Ewedu Leaves, Tete Leaves, Scent Leaves, Pumpkin/Ugu Leaves, Cassava Leaves, Moi Moi Leaves, Bitter Kola, Kola Nut, Pea Nuts, Okro, Locust Brown Beans,White Beans, Ground Beans, Dried Prawns, Garri, Avacado, Dry Fish, Melon, Jatropha plant, Jatropha Oil, Jatropha Seeds, Pepper-ground, Pepper-fresh/frozen, Pepper-small spicy, Habanero Pepper, Black Pepper, Pepper-bulb(tatase), Plum Tomatoes, Plain Flour, Chilli Pepper, Cayenne Pepper, Palm Oil, Fufu Flour, Bean, Bean Flour, Cray Fish, Yam, Fruit-Orange, Mango, Pineapple, Ofada Rice, Spinach, Uha, Smoked Fish, Cucumber, Carrot,Tea,Shea Butter, Honey,Easy Cook Rice, Fufu, Ogi, Poundo Yam, Rice Flour, Stock Fish, Groundnut, Vegetable Oil, Salt, Maggi, Thyme, Curry, Nutmeg, Shawa, Cocoyam, Garden Egg, Beef/Meat, Palm Fruit, Ogiri, Periwinkle, Ehu

Benefits:

1. Identify exportable foodstuff in Nigeria.

2. Learn Foodstuff export international standards.

3. Foodstuff export procedures.

4. Export documentation for foodstuff.

5. How to start foodstuff export with little capital.

6. Continuous export consultation ,Training resources & Certificate of attendance.

7. A to Z of foodstuff export to International markets.

8. How to identify genuine serious buyers.

9. Foodstuff export product quotation and price determination

10. The quality packaging types for foodstuff products.

11. Other methods exporting foodstuff through courier and sea.

12. How to detect and avoid international trade scams and fraudulent buyers.

13. How to source products locally with ease

14. How to get paid by overseas buyers.

15. How to secure foodstuff contracts.

16. Risk management in the foodstuff export business.

17. Our company can handle freight forwarding of your export.


The venue:

THE THY GLOBAL OFFICE/EXPORT PROCESSING CENTRE,
4, Ismail AbdulAzeez Street,
Singer Bus Stop, Ewupe, Sango Ota, Ogun State.

Date: The training is 1 day, choose any day of the week..


Fee: N45,000.

Our Banks Detail:

1. GUARANTY TRUST BANK PLC, THE THY GLOBAL INVESTMENT LTD A/C 0036974905.

2. ECO BANK NIGERIA LTD, THE THY GLOBAL INVESTMENT LTD A/C 1802000495.

3. ZENITH BANK PLC, THE THY GLOBAL INVESTMENT LTD, A/C 1014168485.

4. UNITED BANK FOR AFRICA, THE THY GLOBAL INVESTMENT LTD, A/C 1019228247.


Make payment at the Bank at least 3 days ahead & come on the training day with your teller.

Please, when you pay by online transfer, send us sms/e-mail payment notification.


PS: The Nation Newspaper wrote about us Part 1.

PPS: The Nation Newspaper wrote about us Part 2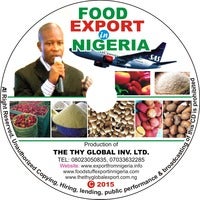 PPS: Recorded Training Session covering A to Z of Food Export Business in Nigeria in DVD is available @ N12,500 - courier within Nigeria inclusive.

Thank you.


Ismail AbdulAzeez.

Tel: +2348023050835, +2347033632285.
E-mail: info@thethyglobalexport.com.ng

---