Post by Ismail AbdulAzeez on Dec 18, 2014 23:40:13 GMT 1
A to Z of How to EXPORT CHARCOAL FROM NIGERIA
Hands-on, in-depth training
Good day,
This is to bring to you a very rear opportunity of how charcoal export is done practically.
This type of training has never taken place anywhere in Nigeria, it is about how to let you discover all the secrets behind charcoal export business. You will learn the A to Z of Charcoal Export Business from me,
Ismail AbdulAzeez, the C.E.O , THE THY GLOBAL INVESTMENT LTD
.

This is a training that will expose you to everything on charcoal business without leaving any stone unturned.

You will be taught about:

* How to raise Capital for Charcoal Export Business.

* Sourcing Charcoal for Export.

* How to understand Charcoal Specification Requirements of various buyers.

* Documentation involve in Charcoal Export Business.

* Identify categories of Charcoal for Export purpose.

* Full description of Charcoal Export Sequences.

* How to choose competent freight forwarding company to work with?

* You will learn how to get charcoal buyers in thousand.

* Factors to consider in choosing appropriate shipping lines for charcoal export.

* How to collect Payments in Charcoal Export Business in Nigeria.
* What a charcoal exporter should not do along the charcoal export chain.

* How to guide against being defrauded in Charcoal Export.

* Watch practically how loading of charcoal into the container is done.

* Share from my bad experience of how I made huge losses when I started out in charcoal export and good experience of how I broke through exporting more than 20 containers monthly.
Comprehensive one on one training is available at N45,000 per participant. Please, call to book at least 3 days ahead.
Venue:

THE THY GLOBAL OFFICE/EXPORT PROCESSING CENTRE,
4, Ismail AbdulAzeez Street,
Singer Bus Stop, Sango Ota, Ogun State.
Bank Detail:

FIRST BANK OF NIGERIA PLC, THE THY CONSULTING A/C 2004862363.



Thank you.


Ismail AbdulAzeez.

E-mail: [email protected]
Tel: 07033632285, 08023050835.

The Nation News Paper wrote about us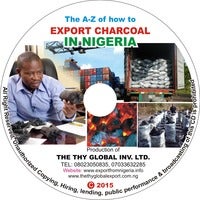 The Recorded Training Session covering A to Z of Charcoal Export Business in Nigeria is available in DVD (3 Hours) @ N12,500 - courier postage exclusive.
---