Post by Trade Coach on Jul 17, 2022 16:10:45 GMT 1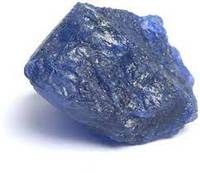 Sapphire: Learn Why This Royal Blue Gem Is A Symbol Of Integrity And Wisdom
Sapphire is the second most popular gemstone in Nigeria after Tourmaline as we saw earlier. Sapphire is a highly valuable blue gemstone that is very expensive.
Sapphire is a precious gemstone, a variety of the mineral corundum, consisting of Aluminum Oxide (α-Al2O3) with trace amounts of elements such as iron, titanium, chromium, vanadium, or magnesium.
The name sapphire is derived from the Latin "saphirus" and the Greek "sapheiros", both of which mean blue.
In Nigeria, it comes in colors like pale green, rich blue, colorless, indigo blue and lots more.
Sapphire is a gemstone associated with royalty. It is believed to attract abundance, blessings, and gifts. It has been used to protect against negative energies, as well as calm the mind, strengthen intuition, and invite spiritual clarity.
The quality of Nigeria's sapphire is of a high grade and a gram of the unpolished sapphire in the international market is worth about $10,000 US dollars.
This gemstone can be found in Nigeria in the following places: Bogoro in Bauchi State;Mambila Taraba State; Gunda in Yobe State; Antah, Nisama, Gidan waya in Kaduna State, and Bokkos in Plateau State.


When most people hear the word sapphire, they think of a blue stone. While the sapphire does come in blue, it can also be found in many colors, including green, white, black, purple, pink, and yellow.
You won't find a red sapphire, though—sapphire is actually a type of stone called corundum, and red corundum is known as a ruby.
The value of a sapphire has a lot to do with its color, with deep, vivid royal blue sapphires being among the most valuable. Learn about the sapphire's meaning and why this royal blue gem is a symbol of integrity and wisdom.
Meaning and Uses of Sapphire
Sapphire has a connection to romance and is often used in engagement rings.
Blue sapphire in particular has a connection to the throat chakra, and can be used to enhance self-expression.
Royal blue sapphire also activates the third eye chakra, and it can help you become more aware of your own responsibility for your thoughts and feelings.
It is said to enhance your integrity and wisdom. In feng shui, dark blue is connected to knowledge and self-cultivation.
How To Tell If A Sapphire Is Real
You may probably have a natural sapphire stone that you are questioning its authenticity. It happens in everyday life, you may have something that is original but your mind continues questioning its originality. Well, here are some simple investigative techniques you can try on your own, no gemologist required, to quickly tell if your sapphire crystal is real or not.
Look For Flaws
:
The first step in determining the authenticity of a sapphire stone is to hunt for any imperfections, defects, or impurities. To test if it is real, use a magnifying glass. To determine if the sapphire gem is real, inspect its surface closely. If it is a natural gemstone, you will see small imperfections on its surface attributable to nature's development.
Although untreated sapphires are sometimes entirely flawless, the presence of minute impurities is likely an indication that you have a natural sapphire stone. Sapphire stones without inclusions are frequently suspected as manufactured or glass imitations. Inclusions are obvious to the naked eye in many situations, but they are only viewable with 10x magnification in others.
Sapphire inclusions can take the form of other minerals, cracks, or fractures. These natural flaws are generally a good sign that the stone is real if you see inclusions.
Our company is the foremost company in Gemstone Business in Nigeria today, we train individuals and corporate organizations on how to do Gemstone Business the right way; if you are interested, please contact the admin of this forum now for further details.


Scroll down for second part.