Post by Ismail AbdulAzeez on Feb 26, 2019 17:28:27 GMT 1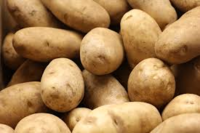 Nigeria is known to have some major staple foods that are consumed often, as a matter of fact, daily.

Wouldn't it be good to diversify this season? The Esther season is very special to Christians and it is a period to eat and be merry.

Potatoes is a great alternative to the staple foods we have been eating regularly through the year. You can spice up the festive season with potato delicacies. Whichever way you choose to eat your potatoes, whether fried or cooked, you are set for a tasty, delicious meal.

Potatoes are relatively cheap and packed with a variety of nutrients. A serving of potatoes contains Fat, Protein, Fiber, Carbs, Vitamin B6, Vitamin C, Potassium, Manganese, Magnesium, Phosphorus and Niacin.

It is important to note that the skin of potatoes contains a great amount of the vitamins and minerals. Peeling potatoes can significantly reduce their nutritional content.

Benefits of Potatoes
Lowers Blood Pressure
Potassium, calcium, and magnesium are all present in the potato. These have been found to decrease blood pressure naturally.

Lowers risk of Cancer
Fiber intake from fruits and vegetables like potatoes are associated with a lowered risk of colorectal cancer.
Vitamin C and quercetin also function as antioxidants , protecting cells against damage from free radicals. Potatoes also contain folate which plays a role in DNA synthesis and repair, and so it prevents many types of
cancer cells from forming due to mutations in the DNA.

Healthy Skin
Vitamin C present in potatoes works as an antioxidant to help prevent damage caused by the sun, pollution, and smoke. Vitamin C also helps collagen smooth wrinkles and improve overall skin texture.

Aids Digestion
The fiber content in potatoes helps to aid digestion and prevent constipation and promote regularity for a healthy digestive tract.

Heart health
Potatoes contain significant amounts of fiber. Fiber helps lower the total amount of cholesterol in the blood, thereby decreasing the risk of heart disease.

Body Metabolism
Potatoes contain vitamin B6. This plays a vital role in energy metabolism, vitamins B6 breaks down
carbohydrates and proteins into glucose and amino acids, which are more easily utilized for energy within the body.