Post by Trade Forum on Oct 1, 2022 18:30:05 GMT 1
Tantalite (Fe, Mn) Ta2O6: Its Deposit, Uses And Extraction In Nigeria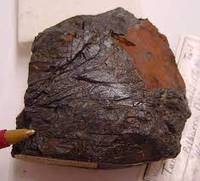 Tantalite Ore Mineral Deposits - Nigeria has a significant and excellent deposit of tantalite, which is world-class and is vastly deposited mostly in the northern parts of the country, some of these deposits have been mined and some though discovered and in huge deposits have remained untouched. Currently the Federal Government of Nigeria has put laws that will guide mining of the country's mineral resources in place.
It can also be found in some states in Nigeria in traces, small and huge deposits such as; Nasarawa, Kogi, Osun, Ekiti, Kwara, and Cross River.
Tantalite is the principal ore of tantalum. Tantalum has a symbol of Ta, melting point of 3,020 °C, and a boiling point of 5,457 °C.
Tantalite is characterized as a black or brown mineral and is of 2 forms such as:
Tantalite which is rich in Manganese is characterized by its brown and translucent nature and is known as tantalite (Mn) or manganotantalite and Tantalite which is rich in Iron known as mineral tantalite (Fe) or ferrotantalite.
Tantalite occurs in granitic pegmatites that are rich in rare-earth elements, and in placer deposits derived from such rocks. Tantalite has also been found in many countries like: Brazil, Egypt, Democratic Republic of Congo, Rwanda, etc.
Brazil has the world's largest reserve of tantalite (about 52%).
Tantalite and columbite have similar mineral structures; their chemical characteristics are similar which is why they are mostly grouped as a semi-singular mineral otherwise known as coltan or "columbite-tantalite".
Tantalite is also very close to tapiolite. Those minerals have the same chemical composition, but different crystal symmetry: orthorhombic for tantalite and tetragonal for tapiolite.
Tantalite is black to brown in both color and streak. Manganese-rich tantalites can be brown and translucent.
Irrespective of their similarities, they have a slight difference in terms of color, transparency, streak, and specific gravity, while the specific gravity of tantalite is >8.0 that of columbite is 5.2 and its hardness on Mohs scale is 6-6.5.
The tantalum metal extracted from tantalite is used in alloys for strength and higher melting points, in glass to increase the index of refraction, and in surgical steel, as it is non-reactive and non-irritating to body tissues. Just like glass, it is not suitable for use in hydrofluoric acid and strong hot alkali applications.
To extract tantalum from tantalite at the mine site, the mineral is first crushed and concentrated using conventional and centrifugal gravity separation, magnetic separation, and advanced flotation before further processing.
It may not be surprising to know that there are a number of Tantalite mining companies in Nigeria, but to make the mineral resources more beneficial to the people and the country at large, it is necessary that the government should take adequate measures in respect to the mining operations of this mineral.
Uses of Tantalite and Tantalum
:
They are used in electronic equipment as tantalum capacitors, like video game systems, mobile phones, computers, and DVD players.
Tantalite is alloyed with other metals to give it a high melting point, strength, and ductility.
It is used in metalworking equipment especially in the making of carbide tools.
Also used in the production of super alloys for nuclear reactors, jet engine components, missile parts, and chemical process equipment.
It's used as a metal for chemical reaction vessels and pipes for corrosive liquids since it is inert against most acids.
Tantalum is widely used in the production of radio transmitter electron tubes which are of ultra-high frequency.
Tantalite is also used in the production of vacuum furnace parts due to its high melting point and oxidation resistance.
One of the problems noticed in mining of tantalite in the Democratic Republic of Congo is that it causes some social problems like environmental degradation. This also happens in Nigeria too.
Our company is the foremost company in Gemstone Business in Nigeria today, we train individuals and corporate organizations on how to do Gemstone Business the right way; if you are interested, please contact the admin of this forum now for further details.