Post by Ismail AbdulAzeez on Sept 21, 2019 18:54:48 GMT 1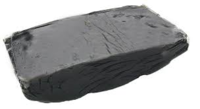 Investors, both local and foreign are required in this business to enhance the growth of the economy. While attention has been on oil and gas over the years, the government and individuals should be willing and ready to exploit the country's Bitumen reserves in a sustainable way particularly in the area of providing asphalt for road development.

Amazingly, it is estimated that over 90% of the minerals in Nigeria are unexploited and unutilised. We should not be reliant on oil and gas alone but should aggressively drive our non-oil related industries for economy and financial improvement especially now that the nation's earnings in crude oil has dropped drastically.
Bitumen also known as Asphalt is a black, sticky substance such as tar or asphalt, used for making roads and roofs. It may be found in natural deposits or may be a refined product.

The terms "asphalt" and "bitumen" are often used interchangeably to mean both natural and manufactured forms of the substance. Bitumen is found in tar sands, which is also a combination of clay, sand and water. A heavy black viscous substance, oil-rich bitumen is extracted from tar sands, which is then refined into oil. It can be obtained naturally or as a residue from petroleum distillation.

Uses
The primary use (70%) of bitumen is in road construction such as the following: Highways, Airport runways, Footways and pedestrian ways, Car parks, Racetracks. Its other main uses are for and maintenance of many structures, systems, and components such as, Tennis courts, Roofing, Dams, Pipe coatings, Cable coatings, Paints, Building water proofing, Tile underlying waterproofing, Newspaper ink production and many other applications including production of roofing felt and for sealing flat roofs.

It is in records that, Nigeria has the largest deposit in Africa and has the second largest bitumen deposit in the world. It is found in Lagos, Ogun, Edo, with the largest reserve found in Ondo state.

Since Nigeria's crude might no longer generate sufficient revenue to run the nation's economy, there should be an alternative to fall back on. In the perspective of this, bitumen is a guaranteed option as Nigeria re-defines its road-map to economic recovery.

Emphasis should therefore be placed on exploration and exploitation of our minerals, so that prospective investors would be encouraged to set up processing plants, to ensure value addition and employment generation.

International Trade
When fully developed, the industry will no doubt meet not only local requirements of the substance for road construction, but also become a foreign exchange earner for the country. Further refining of bitumen can yield products such as asphalt, gasoline, and fuel oil which can be used commercially. This will not only create employment for the people of the state and the nation at large, but will also attract prominent local and international investors.

With all these realities, it is, therefore, arguable that bitumen is the right item for trade at the moment for people with a medium and large budget. Many people are currently into sales of bitumen and bitumen additives across the country.
You can supply bitumen to neighboring countries such as Uganda as well as distant lands such as Malaysia, Indonesia, Vietnam etc.

Investment returns
You can make good money by engaging in bitumen extraction and processing, its distribution and exportation to other countries. Your capacity to supply highly stiff and low penetration grades of bitumen goes a long way in driving you more customers and sales, thereby making good returns with guaranteed long-term business contracts.